Tuesday 9 April 2024 at 10:30

Members & members from other The Arts Society:8 Euros 
Non-Members: 10 Euros
From the ancient world to artists like Tracey Emin and Lucien Freud, portraits have been used to show power, status, virtue, beauty, wealth and taste.
In this lecture we will look at how portraiture has changed throughout the ages and how the genre shows us how to communicate with the past and present in exciting and surprising ways
About the Lecturer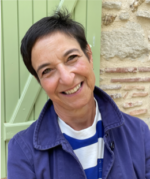 Cindy Polemis is an art historian, independent lecturer and art guide. She has a BA in Modern History from Oxford University and as a mature student she went back to university to study first for a BA and then for a Masters in History of Art at Birkbeck College, London University.  Before that she spent many years as a radio producer and presenter for the BBC World Service working in news and current affairs. Since 2016 Cindy has worked as an official art guide at Tate Britain and Tate Modern.  She has also been a trustee at the Museum of the Home, formerly the Geffrye Museum. Cindy has accumulated a wide range of art historical knowledge ranging from 18th European and British art to the contemporary international art scene.  She has been an official guide for both Frieze Masters and Frieze Art Fairs in London. She is particularly keen to draw parallels with art and social history and her lectures are accessible and engaging, drawing out the stories of art and artists which are steeped in human emotions and experiences which we all share.